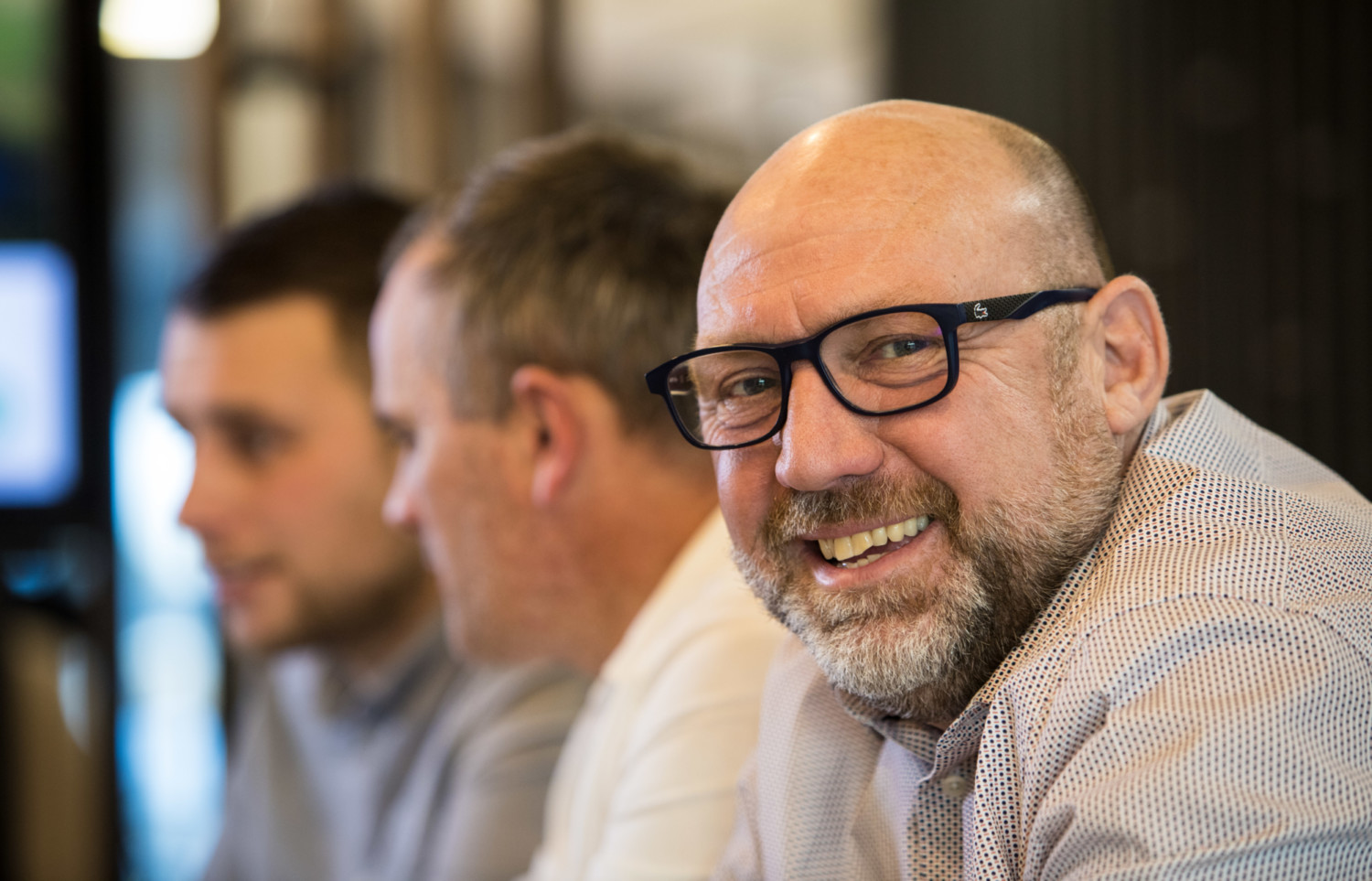 Spotlight on: Ian, our new Quality Assurance Director
Posted by Maisie Kelly —
We recently caught up with Ian Thompson to talk about his new role as Quality Assurance Director at Axter, and to hear more about why having a solid quality assurance (QA) team is imperative to the success of our business. Quality assurance is a crucial aspect of any flat roofing project and delivering the highest standards of workmanship and specification compliance is essential.
The appointment of Ian into this role marks a significant step forward in our quality assurance journey. A defect free, durable, guaranteed roof is always the priority, so investing in this critical area of our business is paramount.
Read on to find out where Ian sees the QA department heading and what the creation of this new role means for Axter.
What is your role at Axter and how long have you worked here?
I'm excited to announce that I am stepping up into the newly created role of Quality Assurance Director.
Previous to this, I have been working as the Operations Manager for the QA department at Axter.
I've been with the company for just over ten years. I was asked to come to the company by Phillip Wilcox-Moore, our Managing Director, as he was in the process of setting up a QA team. It started with an initial talk. Ten years later, here we are with well-established processes, and supported by an experienced team focussed on quality and reducing risk.
I've enjoyed every minute of it. As with any job, there are ups and downs, but I can say with confidence that it's been a very good experience.
How did you get into this line of work?
Like many of my peers, I started flat roofing when I left school. I worked hard and progressed from an on-site labourer, to installer, to supervisor. I was originally working with traditional bitumen flat roofing systems such as pour and roll, before expanding my knowledge into other developing system technologies like single ply.
After that, and before working at Axter, I worked with another manufacturer for about eight years as an Area Technical Representative. This was very similar to our QA role here at Axter.
I worked my way up from being a field technician to heading up their technical department in the UK.
So I've worked for about 18 years in this this kind of role, in different formats.
My Axter journey started with a chat over a cup of coffee at Liverpool Street Station, and the rest is history.
It's a great company to work for - we have a clear vision, and the team is fantastic.

It must have changed quite a lot over the years?
Oh it's changed immensely.
When I first joined, it was just me on my own in the QA department. And then we brought another person on board and the team has grown from there. Then we introduced the upskilling side of the business to support quality through training and mentoring, so the role has really developed over the course of the years.
The QA team and the company as a whole is unrecognisable from what it was all those years ago. The change has been huge. A lot of hard work has gone into it, so it's great to see.
What significance does the creation of your new role hold in terms of Axter and the direction we're heading in?
I think it allows us to grow as a team. We are putting into place a team structure that will allow people to enter the company as a field technician, for example, and then move into other skilled roles through training and development. It's important for the team to see that there is room to progress their careers – a clear path ahead of them. It's good for everyone and I'm excited to help shape that.
My appointment allows the team to grow alongside our expanding customer base and the company as a whole. Business growth, sales and profit are very important, but quality assurance and compliance remain Axter's top priorities.
And how do you see the department evolving in the next few years?
It will continue to go from strength to strength.
We have got an excellent team around us who work hard to ensure that our products, systems, and services meet the highest quality standards. They are all on track to progress in the company.
The QA team is moving forward in many ways - our on site inspections, operative upskilling courses, training and development are all evolving. We've just launched our Aquamodul® blue roof system upskilling course. And there are so many more courses in the pipeline, because operatives feeling confident and fully equipped in installing Axter systems is key to success.
I'm keen to bring more technology into the department as well, to help really drive us forward and streamline our processes. For example, looking at new ways of reporting and sharing information with our stakeholders.
How does the QA team support customers and clients?
Everybody's looking for a defect free, compliant, and guaranteed roof. And it's my team's responsibility to deliver that. We oversee the installations and always strive for excellence. We're making sure that our clients get what they want: a defect free roof, that will stand the test of time, guaranteed. It's incredibly important to us all and sits at the heart of the business.
The feedback we get from our accredited contractors about what we do as a QA team is superb. The depth of how thoroughly we check the installation, the upskilling provided, and the support we give on-site, are all really appreciated by our customers. We will continue to work side by side with our accredited roofing contractors to make sure that their operative teams are upskilled and working to the highest installation and safety standards.
Our accredited roofing contractors are never left on their own, they have our team around them to nurture and provide support. This is what being part of the Axtershield and Axter Alliance team is all about. The benefits of the level of support and collaboration we provide, are clear for all to see.

And what does an average day Axter look like for you?
An average day starts early in the morning, when I'm walking out the door and heading to my first of four or five site visits that day.
When I get back, I'm working through emails, project sign-offs and guarantees – that kind of thing.
This new role is going to free up some of my time, so that I'm able to take a step back and reevaluate how we work and how we run things.
Of course, the phone never stops, whether it's accredited contractors, their operatives or someone from the team - catching up or asking for information and advice on how to do things, like the best way to write a report, and other things like that. The more information I can pass onto the team, the stronger they become. So I always make sure I'm available. This comes back again to our plan to grow the team – I want to make sure I've equipped them with the training and confidence to succeed.
I'm not on my own by any stretch of the imagination. I have a great team around me, both out in the field and in the office.
If you could design a perfect city, what role would roofs play in that society?
I think, to be honest, we're slowly starting to see changes within cities. Green landscapes have become more prominent. Especially in and around London and the big cities, you'll see more green roof designs and blue roofs.
And you know, I would like to see it go that step further. I would like to see farms on roofs and other inspiring things like that. For example, I was on holiday in America recently and had a tour of Fenway Park, the home of the Boston Red Sox Baseball team. One of the highlights was seeing first-hand how they grow produce in specially designed planters on all the open flat roofing space [see below photo]. This fresh produce is then used within all their onsite restaurants.

Eventually I'd like to see all roofs being used for a specific purpose, in addition to the primary functions of roofing. If we can design cities with better landscapes and greenspaces, it will make the world a better place.
There are some great projects that we've worked on, such as Castle Park View, where they have communal spaces on the roof and barbeque facilities. There are also a couple of schools in London where we've created football pitches on the roof and other social spaces. It makes so much more sense to use that space, than to leave it as an area that no one steps foot onto.
I think for sustainability we need to take that next step and have a focus on local, community living. And make it accessible for everyone.
I would also like to see a bigger focus on renewables, such as solar PV on roofs combined with green roofs.

Where would you like to see a big change within the roofing industry in the next few years and why?

I think the industry as a whole has got to become more united. There are too many divides within the industry. Whether it be one manufacturer batting against another manufacturer, or a contractor battling against another contractor.
I think more of the focus should be on what you can give back to the industry. At Axter we do a lot of that through upskilling. I think everybody needs to upskill – competency is so important.
As an industry, we need to take responsibility, improve competency and increase the upskilling side of things.
There is also a shortage of young people coming into the industry. Roofing appears to be an industry that people just seem to fall into.
People don't tend to set out to become a roofer. For example, I just fell into it through a friend that needed a labourer and that's how I got into roofing. And if you talk to most installers it seems to always happen the same sort of way. You either fall into it, or roofing runs in your family and seems to be the career path laid out for you.
However, it's important for people to learn that there are other moves they can make within the industry, with one example being the role I'm in now. My whole team is made up of people who started out as flat roofers.
We need to showcase roofing as a great industry to get into, with many different career path options. And that all starts with engaging young people early.
We can do that through training routes, such as apprenticeships, upskilling and even graduate programmes. This is key to moving the industry forward and opening it up to more people as an option.
I'd like to see the industry at careers events and getting involved with construction colleges.
The industry has been very good to me. I've enjoyed every single minute of it, from being on the tools to doing what I'm doing now. And I'd love to provide others with the opportunities I have been presented with.
Now that we're growing the team at Axter, that's something we can really think about – how we give back to the industry and the community.